Housed in one of Houston's oldest buildings, Hearsay's original Market Square location epitomizes chic antique, and it set the standard for every subsequent location with its exposed handmade brick, wood panel artwork, extended polished wood bar and vaulted ceilings.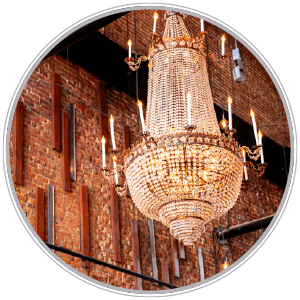 Hearsay celebrates eclectic American cuisine served in a unique setting featuring historic architectural elements, chic custom decor and curated on trend playlists. And while we have a lighthearted approach to fun — we're 100% serious about our food & drink program. Our chefs source high-end products like Wagyu beef, prepared with local, fresh ingredients to present flavorful dishes with sophisticated plating. Come to Hearsay with the expectation of all the classic elements of fine dining, but enjoy them in a laid back, casual atmosphere.
Exotic Spirits that Satisfy
We like to think of Hearsay's bar program as a modern twist on a vintage Speakeasy, with Prohibition era inspired craft cocktails, created in house by our team. The cocktail menu is designed to offer a variety of distinctive and appealing flavor profiles, with something for every discerning palette. We use fresh ingredients and create our own infusions in house. And, we seek to offer not just high-end items, but also difficult to source spirits like Macallan Rare Cask, 1792 and Pappy Van Winkle — always providing our patrons with exotic and enticing products they cannot find elsewhere.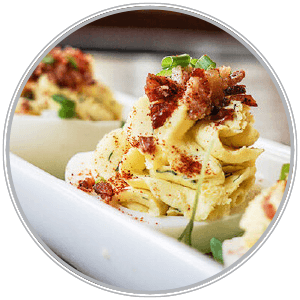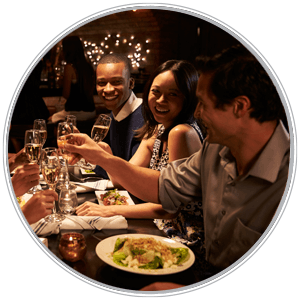 The Story Behind Chic Antique
Established in 2008 with the original Hearsay, Chic Antique was inspired by
 Market Square's fusion of unique historic architectural elements with a stylish modern edge. It is our signature blend of complementary yet unexpected pairings. Like timeless interior spaces that feature vintage swagger and contemporary flair, and precision cuisine with sophisticated plating served in a casual setting. We're lively yet relaxed — guests can dress up or dress down — come for an elegant event or hang out at the bar. Chic Antique is Hearsay's signature ambience. It's the embodiment of our brand and at the heart of everything we do. We find it turns our guests into regulars, and our regulars into friends.
Nick Banaszak
Executive Chef and Culinary Director
Executive Chef and Culinary Director for all Hearsay restaurants, Chef Nick Banaszak has a demonstrated history of excellence and creativity in the hospitality industry. Since 2009 he has been a valued collaborator with the leadership team of Landmark Hospitality Group for the Hearsay and 51fifteen restaurant brands.
Historic Market Square – The DNA of Hearsay
A one-of-a-kind treasure on the edge of downtown Houston's historic Market Square, the original Hearsay Gastro Lounge sets the standard for every other Hearsay location that has come after it. Hearsay Market Square, and in fact every Hearsay location, balances the best of today's American menu favorites with the spirit, design elements and hospitality of a bygone era when the world moved at a more manageable pace and patrons were encouraged to relax and savor the company of their guests and colleagues.
Housed in the original W.L Foley building, Houston's second oldest still standing commercial structure designed by the renowned Texas architect Eugene T. Heiner and built in 1889, the exposed handmade brick, mirrored walls, extended polished wood bar, vaulted ceilings, antique chandelier and Edison lighting harken back to a time when everything was crafted by hand with care and attention to detail.
The building was given new life in 1994 when it was purchased by Houston artist and architect Lee Benner. Known for his unique merging of modern eclectic designs and folk genre with local history, Benner applied his signature style to the new design of the building, including the iron and brass staircase and railing along with the whimsical artistic elements throughout.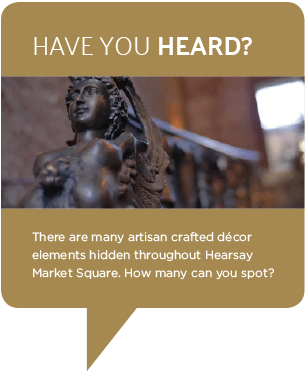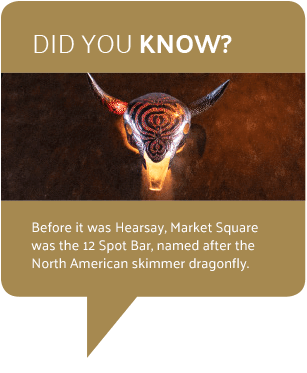 Today, you'll find that same attention to detail given the building by its original owners along with the unique twist imparted by its artist owner in every dish that passes through the doors of our kitchens and every handcrafted cocktail Hearsay serves. An artful and often unexpected pairing of time-honored culinary favorites with contemporary ingredients and techniques keep our guests tempted, satisfied and coming back for more.
Hearsay Market Square is a truly remarkable space where chic and antique come together to create an ambience, and ultimately an experience, like no place else. (Well, no place else other than one of our other Hearsay locations.)