About Hearsay
Located in the twice reconstructed W. L. Foley building, the original Hearsay Gastro Lounge seamlessly blends elements of Houston's robust history together with modern features to create an atmosphere both elegant and unpretentious at once. Our talented team of chefs have constructed an equally impressive menu with flavorful renditions of American classics.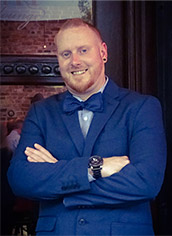 Joshua Tyler Demshar
General Manager | Hearsay Gastro Lounge
Joshua Tyler Demshar comes to us from Magnolia, Texas. Josh's journey to become the General Manager of Hearsay Gastro Lounge started behind our very own bar. His talent behind the bar and remarkable hard work was not over looked when a management position became available. Josh has been with Landmark Hospitality since early November 2012, with 17 years of restaurant and bar experience.
The creation of our craft cocktail menu derives from the extraordinary bartenders that have left their mark here at Hearsay Gastro Lounge. This establishment is fueled by the staff, Chef Kelly Boyds' mastermind in the kitchen, history and upscale casual atmosphere.
Discover beauty in every bite at Hearsay, where your dining experience is as distinctive as our landmark location.